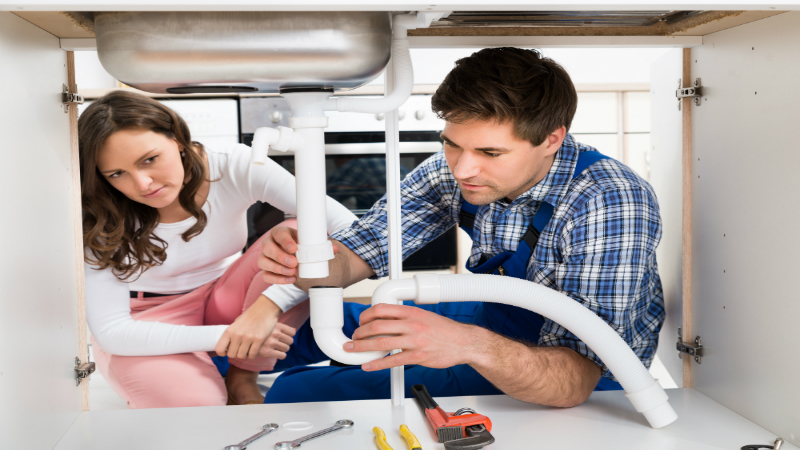 For as long as there has been plumbing, there have been clogs and blockages. They create inconvenience, stress, and messes, but they do have a natural enemy, and that is a skilled drain cleaning professional. Using the latest in tools and equipment, those drain issues will soon be history. Whether residential or commercial, drain cleaning is nowhere near as big a problem as it once was. Instead of digging up the drain pipe and replacing it, today's plumbers can either remove invasive tree roots using a professional rooter outfit, or, blow away a serious clog with hydro jetting. No digging; no tearing up your yard, sidewalk, driveway, or garden; just efficient equipment, in the hands of a trained professional, taking care of a problem in a timely manner.
If using a rooter is called for, this involves the use of an electrically-powered piece of equipment fitted with rotating blades which are used to clean out drains that are badly clogged by tree or shrub roots or other large obstructions. The blades are fed down the clogged pipe until they encounter the root. At that point the blades cut through the root and open up the pipe once again.
If a clog calls for hydro jetting a special piece of gear is brought in which should only be operated by trained professionals. It involves highly pressurized water being run through your drain to remove any blockages. Care has to be taken to maintain the correct amount of pressure to avoid damaging the pipe while clearing the clog. Very often this is the piece of equipment that plumbers recommend using when they do regular plumbing maintenance at your home or business. It prevents a buildup of material which can later become a complete blockage. Setting up a program of regular maintenance for your system is the best way to avoid emergency calls and keep your drains running freely year round.
If you are looking for Drain Cleaning in Jacksonville, you can contact the pros at Duck Duck Rooter Septic Services for a free estimate. They are licensed, bonded, and insured, and can handle any plumbing task. They are available 24 hours a day and can provide you with flat-rate pricing on the work they do.